Yasmin Dwedar is New Executive Director of Vermont Legal Aid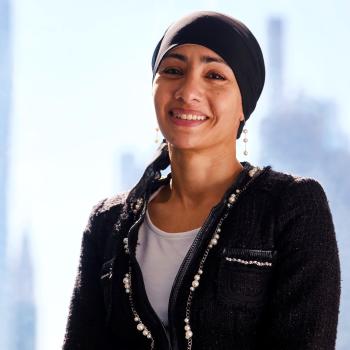 August 2023
Dwedar has dedicated her career to public interest and social justice work.
August 2023 — The Vermont Legal Aid Board of Trustees has named Yasmin Dwedar as the new Executive Director of Vermont Legal Aid (VLA).
Dwedar's background as a legal services attorney, educator, and organizer, combined with a deep passion for diversity and uplifting others, will help to further advance the mission of the organization that has worked to support Vermonters for more than 55 years.
"We are thrilled to welcome Yasmin as our new Executive Director," says Erin Jacobsen, VLA's Board of Trustees President. "She will bring experience, enthusiasm, great communication skills, and an innovative spirit to our organization. We feel very lucky to have found her and look forward to a successful and invigorating chapter with Yasmin at the helm."
Dwedar assumed the role on August 16, 2023. She will manage all day-to-day operations for Vermont Legal Aid, known for working on behalf of vulnerable Vermonters to address systemic and institutional problems that impact their lives. Dwedar will also lead fundraising programs and advocacy, as well as marketing and community engagement initiatives.
"I am excited to be in Vermont to share my passion for advancing social justice and commitment to work alongside staff to build a new chapter for VLA in a way that meets the needs of staff and community at large," says Dwedar.  
Dwedar has dedicated her career to public interest and social justice work. With over a decade of experience working to advance justice, equity, and inclusion for the underrepresented, underprivileged, and marginalized, Dwedar is unwavering in her commitment to work alongside VLA staff to address the needs of Vermonters and expand meaningful access to justice for all. She has spent more than half of her career leading legal teams and projects in nonprofits and public agencies. Dwedar also served as a law clerk in both state and federal courts. In her spare time, Dwedar volunteers regularly within her community and has served on several nonprofit boards where diversity, equity, and inclusion were central to her work and the communities she served. 
Dwedar earned her Bachelor of Arts in English Language Arts from Hunter College, a Master of Arts in International Studies from the City University of New York (CUNY) Graduate Center, and a Juris Doctorate from CUNY School of Law. Dwedar has received several awards and has been featured in various publications including Crain's Business' "Top 100 Women Lawyers in New York City," Vice Media's "Next-Gen Women Lawyers Explain How They're Creating Change in a Complex System", and, most recently, Hunter College's inaugural 40 Under 40 Magazine.
Dwedar will guide VLA as they begin a new chapter and refresh their mission and goals for the next several decades. "We have every confidence that she will continue to lead our organization as we work to advance justice in the civil legal system while also bringing a fresh perspective to the way we approach community engagement and inclusion," says Wendy Morgan, Interim Executive Director. "With our new Executive Director in place, we can expand our impact for the benefit of our clients and the community as a whole."
Dwedar succeeds Interim Executive Director Wendy Morgan, long-time VLA leadership team member, who assumed the role in October 2022 after the departure of Eric Avildsen.
Vermont Legal Aid

 
Vermont Legal Aid (VLA), one of the state's largest law firms, is where Vermonters turn when they face a civil legal problem that threatens their rights, shelter, income, health, or well-being. We strive to advance fairness and justice in the civil legal system, address the social and economic barriers faced by our clients, and confront the underlying causes of poverty, discrimination, and inequality. Our services are free.
VLA has a staff of 90 across the state in five offices, Burlington, Montpelier, Rutland, Springfield, and St. Johnsbury. The Administrative Unit has historically been in Burlington, our largest city.
VLA and Legal Services Vermont (LSV), Vermont's Legal Services Corporation-funded agency, share a Board of Trustees. In addition to working together with LSV to serve thousands of Vermonters annually, VLA focuses on achieving systemic change for its client communities and has a robust presence in the Vermont Legislature, before state agencies, and in the State's Supreme Court.